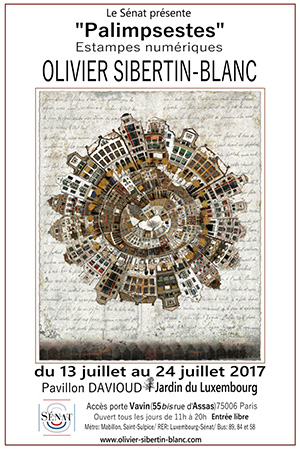 PALIMPSESTES
13 July - 24 July 2017
Le Pavillon Davioud - Sénat
Jardin du Luxembourg
55 bis rue d'Assas
75006 Paris
Free entry


...................


I was born in Paris in 1964. I spent all my childhood and my youth in the rue Madame, a street in close proximity to the Gardens where I exhibit today.
The Luxembourg Gardens was, throughout my childhood, my favourite playground, and later a source of inspiration for my first drawings.
I attended evening engraving and etching classes at the Paris Arts Décoratifs and also spent two years in the Drawing section of the studio of the painter Velickovic at the Beaux Arts of Paris. I then went to study at the Beaux Arts in Belgrade, ex Yugoslavia. For many years I practiced a variety of artistic techniques, without finding the ideal medium that I was looking for.
As I participated in a drawing competition, and with the circumstances I was in then, I came across digital creation software. I learned, often with reservations, the fundamentals of these techniques while not knowing very well where this would lead me. This experience quickly led me to solely work, think, dream in this new language, a source of never-ending and limitless creativity.
Nevertheless, anxious not to betray my inspiration and my graphic universe and background, I experimented, for several years, with digital techniques with the secret hope of combining this new technology with the techniques of classic creations. This allowed me to make prints where I could retain the finesse of the drawing strokes, the lightness of colour and the subtleties of the light, capricious and complex trio to hold together.
Today I present the fruit of this work which I call " mixed flowers honey " because it is composed of all my influences, sources and all my experience. I hope that it will receive a favourable greeting with the curious and lovers of art.